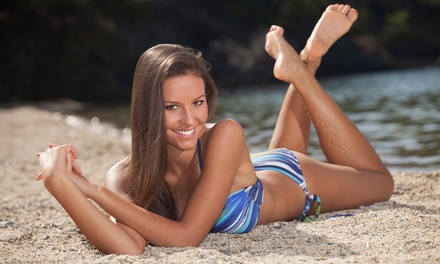 Intended as a long-term hair removal solution, regular sessions reduce the need to shave regularly; treat areas like the Brazilian and legs
Price: $188.00
Value: $420.00
Discount: 55%
You save: $232.00
Description
The Deal
$188 for six IPL hair removal sessions on one area (total value up to $420)
$288 for six IPL hair removal sessions on two area (total value up to $1,380)
$388 for six IPL hair removal sessions on three areas (total value up to $1,800)
$488 for six IPL hair removal sessions on four areas (total value up to $2,640)
$588 for six IPL hair removal sessions on five areas (total value up to $3,060)
$688 for six IPL hair removal sessions on six areas (total value up to $3,354)
$788 for six IPL hair removal sessions on seven areas (total value up to $10,500)
$888 for six IPL hair removal sessions on eight areas (total value up to $4,074)
$988 for six IPL hair removal sessions on nine areas (total value up to $4,314)
$499 for six IPL hair removal sessions on male Brazilian (total value up to $540)
What is IPL hair removal?
This treatment directs intense pulses of light at areas of unwanted hair over a series of short bursts. Various parts of the face and body can be targeted over a series of sessions.
What happens at the sessions?
The first session will begin with a consultation, then the treatment will follow, with five- to six-week intervals between them
What areas can be targeted?
Count as one area:
Upper lip
Lip and chin
Underarms
G-string bikini
Standard bikini
Count as two areas:
Full chest
Brazilian
Forearms
Full arms
Back
Count as four areas:
Cleansing Skin and Soul
Cleansing Skin and Soul is dedicated to enhancing the beauty of every client, inside and out. A wide range of services are on offer, including IPL hair removal, facials, nail treatments and massages. To prepare for special events, clients can opt for formal make-up application, hair styling and eyelash extensions. Cleansing Skin and Soul is located in Munno Para West.
Celebrity Skin Services
1 Monterey Drive

Terms and Conditions
• Limit of 1 voucher per person
• Purchase up to 5 additional as a gift
• Not valid on Sun
• Male Brazilian only available in $499 option
• Sessions must occur at least 5-6 weeks apart
• Not suitable for pregnant or breastfeeding women, or those on photo-sensitising drugs
• Must not use sunbeds or fake tan 4 weeks prior to treatment
• Areas to be treated must be shaved prior to first session
• 6-8 sessions are generally recommended for best results
• Results will vary according to skin and hair type
• All treatments must be completed within validity period
• Original value verified on: 06 Mar 2017
• Standard fine print for all deals
How to Redeem
• Expiry: 6 months from purchase
• First session must occur by: 30 days from purchase
• Phone to book: 0402 788 709
• State Voucher and Security Code at time of booking
• Present printed or smartphone voucher on arrival
• Download free Groupon app for Android and iOS