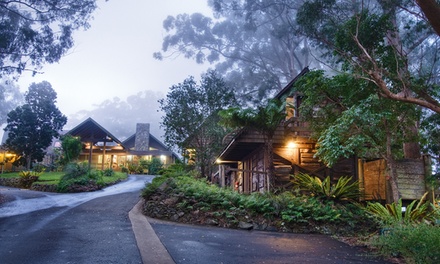 Reconnect with nature, staying in an authentic heritage-listed lodge and explore the Lamington National Park with guided walking tours
Price: $299.00
Value: $660.00
Discount: 55%
You save: $361.00
Description
The Hotel: Binna Burra Lodge
Positioned 800 metres above sea level in the sub-tropical rainforest of Lamington National Park, Binna Burra Lodge is an authentic heritage-listed property that has been welcoming visitors since the early 1930s. The ideal hideaway from the chaotic city, Binna Burra boasts a host of amenities for a relaxing stay. Country-style fare can be sampled at the Clifftop Dining Room.
A balcony with outdoor seating in the Acacia Room allows visitors to enjoy views of the mountains or rainforest. The room also features a private ensuite, heater and fan and bar fridge. Guests can join a guided walking tour around the National Park to admire the scenic beauty of the surroundings and enjoy extra activities like abseiling, flying fox and archery (at an additional charge and subject to availability).
Room Details
Acacia Room
Bed size/type: Queen bed, double bed or twin beds and Family rooms available
Room features en suite bathroom, hot drink-making facilities, and private balcony with outdoor seating and mountain or rainforest view
Standard occupancy: Two people
Maximum occupancy: Four people

extra adult: $60 per night
extra child (aged 5-12): $40 per night
extra child (under 4 years old): free of charge
The Area: Lamington National Park, QLD
As Australia's largest remnant of subtropical rainforest and a UNESCO World Heritage Site, Lamington National Park covers the valleys and cliffs of the McPherson Range with walking trails covering up to 160km. It protects one of the world's oldest conifers, the Araucaria Cunninghamii, and is home to numerous plant fossils. It is also an important refuge for many animals including endangered birds, the Richmond birdwing butterfly and mammals like the spotted-tailed quoll.
The park is home to a number of songbirds like the satin bowerbird, the eastern bristlebird and the rufous scrub-bird. While walking through the rainforest, tourists may be able to see glimpses of bowerbirds or hear the cry of the green catbird. Approximately 58 plants and more than 22 animals are classified as vulnerable, rare or threatened with extinction in the park. The natural wealth of the park plays a huge role in preserving these species.
Groupon Customer Reviews
88%
of Groupon customers
recommend this business
(based on 50+ reviews)
"Friendly and informative staff, fabulous environment to explore, comfortable accomodation and tasty wholesome food. Had a lovely relaxing time"
"Great staff & a wonderful experience!"
"We have had a great time in the beautiful Lamington National Park at Binna Burra. Thank you for providing us with a cosy accommodation combined with excellent service."
Details verified 15/03/2017
Learn more about Groupon Merchant Review Policy
Beechmont
Binna Burra Rd

Terms and Conditions
• Deal is valid for 2 people
• Blackout dates: 14-17 Apr 2017
• $50 Sat night surcharge for 2-night option only
• 1 hour Hatha yoga only available on Sat and Sun
• Read more about purchase options and common Travel Terms here
• Standard fine print which applies to all travel promotions
—
Booking your next holiday? Need insurance? Save 20% on your next travel insurance policy with InsureandGo – Groupon customers enter the code 'group20' on application. Click here to redeem.
How to Redeem
• Can travel from: 1 Apr 2017
• Can travel to: 30 Sep 2017
• Phone to book: (07) 5533 3622
• State name, preferred dates of stay and Voucher and Security codes
• Present printed voucher on arrival