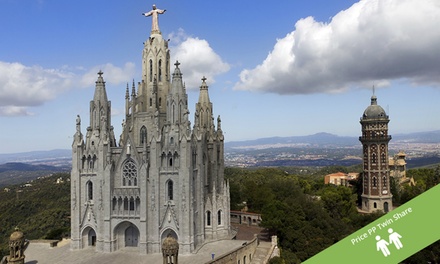 See the sights of the country including Sagrada Familia Cathedral in Barcelona or Roman aqueduct in Segovia on the seven-day trip to Spain
Price: $1,949.00
Value: $2,463.00
Discount: 21%
You save: $514.00
Description
The Experience
This seven-day tour takes voyagers to the diverse and historic regions of Spain, including Castilla Y Leon, the Basque, Navarra, Catalonia and Castilla La Mancha (home of Don Quixote). Along the way, there are stops at many picturesque landmarks, including Sagrada Familia Cathedral or Park Guell in Barcelona, Romanesque churches and Roman aqueduct in Segovia or Pamplona, the historic city made famous by "the running of the bulls" during the San Fermin festival. The experience will include guided walking tours, but also tourists will have time to explore the cities on their own.
7-Day Itinerary
Day 1: Arrive in Madrid
The tour leader will meet holidaymakers at the hotel during the afternoon. After everyone's checked in, customers will enjoy dinner where they can get to know the fellow travellers.
Day 2: Madrid – Segovia – San Sebastian
This morning travellers will depart Madrid and make their way to San Sebastian on Spain's northern coast. Along the way they'll enjoy a comfort stop in Segovia, a picturesque UNESCO World Heritage Site city which offers the highest concentration of Romanesque churches in Europe, as well as an incredibly well-preserved Roman aqueduct that runs into the heart of the city. Later this afternoon guests will arrive in San Sebastian, a charming city with a beautiful beach and vibrant nightlife. A foodie's paradise, San Sebastian is known for its Basque gastronomy, so this evening is best spent exploring the beachfront bars and indulging in pintxo, northern Spain's version of tapas.
Day 3: San Sebastian – Pamplona – Zaragoza
Our first stop today is Pamplona, the historic city made famous by "the running of the bulls" during the San Fermin festival. Packed with history, customers will have some free time to explore the beautiful medieval city centre and see the city walls and citadel. Tourists will then head to Zaragoza, enjoying a wine tasting along the way, before taking a walking tour of the city. The city has experienced a long and varied history, with Roman, Moorish, Jewish and Christian communities leaving their marks over the centuries, as seen in the Basílica del Pilar Cathedral, Aljafería Islamic palace and the Roman theatre.
Day 4: Andorra – Barcelona
On the way to Barcelona, holidaymakers will take a comfort stop in Andorra, a tiny independent principality with a population of just 85,000, located between France and Spain in the Pyrenees mountains. Customers will enjoy some free time to explore Andorra la Vella, the highest capital city in Europe and a popular ski resort. Later this afternoon they will arrive in the cosmopolitan capital of the Catalonia region, Barcelona. The tour leader will acquaint guests with the city's vibrant energy with a driving tour, so keep your eyes open for the famous Sagrada Familia Cathedral, and some of the spectacular examples of Antoni Gaudi's eclectic art and architecture.
Day 5: Barcelona – Free day
Today is the day at leisure. The best views of the city can be seen from Park Guell, and travellers can take in the panoramic splendour and skyline of Barcelona. The park itself offers a very interesting design which is a product of Anton Gaudi's challenging architectural visualisations. Barcelona is home to many of Gaudi's building designs and you could spend the whole day simply locating each one. One of his most famous works is that of the unfinished Sagrada Familia – an interpretation of a Gothic cathedral which is unlike any building you will have ever seen. You can't miss it from Park Guell, or most other vantage points in the city. Harbour tours, La Ramblas, the Old Town, museums, art galleries and some of Europe's best shopping – there is much to do in this incredible city. If you wish to participate in our optional excursion, we can organise tickets for you to see a traditional Flamenco show. The dance of passion is performed with style, flair and energy, and is a real experience not to be missed.
Day 6: Peniscola – Valencia
Leaving Barcelona behind tourists will make their way south down the coast towards Valencia, stopping off along the way in Peniscola. With a historic old town, beautiful promenade and sandy beach overlooked by an imposing castle built by the Knights Templar, there are few more picturesque places in Europe to enjoy a lunch stop. Once holidaymakers have arrived in Valencia they'll enjoy an orientation tour of this thriving port city, which retains plenty of historic charm despite the decades of development that have given it a distinct space-age feel. As the last night on tour, guests will round off the day with a farewell paella dinner this evening.
Day 7: Valencia – Madrid
Enjoy some free time this morning to explore Valencia – why not visit the cathedral or stroll through the Turia River Bed Gardens? The journey then continues through the historic La Mancha region, made famous by the legend of Don Quixote. Later, travellers will explore Castillo de Belmonte, with entrance to this medieval castle included in the tour package. The interiors are dominated by spectacular stucco works in the Gothic and Moorish styles, and a beautiful Neo-Gothic courtyard. Later this afternoon guests will arrive back in Madrid for the end of the tour.
For full itinerary details check here.
Madrid
Madrid

Terms and Conditions
How to Redeem
• Must book within 7 days of purchase
• Phone to book: 1800 008078
• State name, preferred dates of stay and voucher and security codes
• Attach PDF voucher
• Present printed voucher on arrival
Terms
• Fixed travel periods:
20 May 2018
17 Jun 2018
15 Jul 2018
12 Aug 2018
• Deal is valid for 1 person based on 2 people travelling together (twin share)
• Customers can purchase multiple vouchers
• Vouchers cannot be combined to extend stay
• Excludes flights and travel insurance
• Single Supplement $435 (NZD$459) for guaranteed single accommodation
• Suitable for adults plus children from 12 years old where accompanied by adults
• Maximum tour size 50 travellers. Twin share bedrooms (2 beds). Single rooms on application.
• Ability to board a coach and partake in activities
• Includes walking and other specified excursions. Other optional excursions available
• Maximum luggage 20kg for hold and 7kg as carry-on luggage
• Groupon strongly encourages all travelers to check official advice available at smartraveller.gov.au prior to purchasing this deal
• Travel insurance not included; customers are advised to purchase appropriate cover after booking
• Original value verified on: 10 Apr 2018
• Read more about purchase options and common Travel Terms here
• Standard fine print which applies to all travel promotions
—
Booking your next holiday? Need insurance? Save 20% on your next travel insurance policy with InsureandGo – Groupon customers enter the code 'group20' on application. Click here to redeem.